» NJFBOA
August 2017 Meet - Sat 8/12 The Chatterbox Drive-In & Cruise Night, Augusta, NJ

General Info:

Meet Coordinator: David Martin aka IROCZMan15
Date: ................... Saturday August 12th
Time: ................... 4:30PM
Where: ................ The Chatterbox Drive-In
............................ 1 NJ-15, Augusta, NJ 07822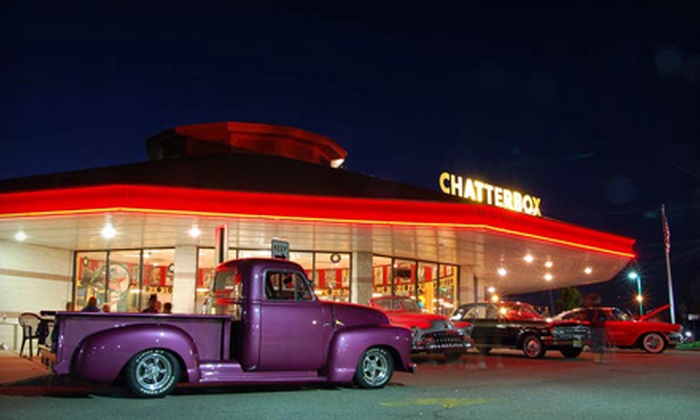 For those who are unfamiliar with The Chatterbox Drive In, it is a classic American diner that also hosts recurring cruise-nights. Their events and food draw gearheads from all over the region, and never disappoint. It's a family friendly environment that will keep the wife/kids happy while also letting you sift through a sea of cool cars that take over the property as the evening goes on.

Rendezvous Point/Extra Info:
Always the ambitious go-getter, Dave took it upon himself to talk to the owner of The Chatterbox in advance and they came up with some cool ideas to make for some good photography options.
In an effort to get all the NJFBOA/FBody cars parked together, we're suggesting a Pre-Meet rendezvous <5 minutes away from the venue, this way we can all pull-in to Chatterbox's cruise night together and park in-line as a club.
We will meet at the Lafayette Township Fire Department lot, where there is a large, public, side parking lot between 4:00 and 4:15pm. We will be staying here for about 15 minutes while the group all meets up. From this location, it is very easy to get back on Route 15, because you simply make a right turn and don't have to go across any traffic lanes. Per Don at Chatterbox, we can all park in the Modern Muscle section as a gang--including vehicles with QQ plates. This should make for some good pics and videos!

So who's in?


» News
NJFBOA News June 9, 2017
- by BonzoHansen
NJFBOA News June 9, 2017

Supposedly it is almost summer. Maybe next week. What are you up to?

*** June 2017 Meet - Sat 6/10 The Chapterhouse Restaurant, Howell

http://www.njfboa.org/forums/showthread.php?t=67785

Come out and kick off summer!

Date: Saturday June 10th
Time: 12 noon
Where: The Chapterhouse Restaurant
1454 Rt 9... [Read More]

123 Views
» News Archive
Title, Username, & Date
Replies
Views
NJFBOA News March 23,...

0

546

NJFBOA News January 14,...

0

3,397

NJFBOA News September...

0

4,029

NJFBOA News August 28,...

0

4,222

NJFBOA News June 6, 2016

0

4,431

NJFBOA News February 22,...

0

4,750

» Stats
Members: 3,818
Threads: 57,709
Posts: 819,837
Top Poster: Tru2Chevy (22,457)

Welcome to our newest member, jodiracanati